Boys Fight for Girl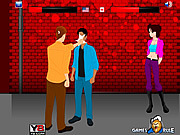 Do you ever fight for a girl? In this game you need to beat your enemy to get a kiss from her. You choose your character and fight with another person. You need to defeat him. Good Luck!
a href= alt=Boys Fight for Girl class=playable src= /br /Boys Fight for Girlbr /Click here to play the game/a
Pleaselogin or register, or type the words below:
points onOrion Sandbox Enhancedbycraft
You are not logged in. Only registered users can vote without verification.